Portland Bakery Delivery
Baked goods from Portland's leading bakeries, Pies, Cakes, Brownies, Cookies, Espresso drink delivery, Cinnamon Rolls, Cheesecake
https://www.portlandbakerydelivery.com/
lynne1061@gmail.com
(503) 841-6983
524 N.E. 118th Street
Portland, OR 97220
PORTLAND BAKERY DELIVERY proudly serves the Portland area. We are family owned and operated. We are committed to offering only the finest baked goods and gifts, backed by service that is friendly and prompt. Because all of our customers are important, our professional staff is dedicated to making your experience a pleasant one. That is why we always go the extra mile to make your bakery gift perfect.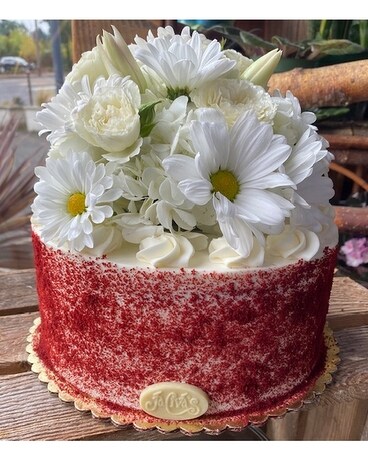 CUSTOMER NAME : Megan Brown
CUSTOMER REVIEW : A family member sent me a lovely gift from here and it was perfect! The sweet treats were super tasty, the coffee was delicious (and HOT when delivered!!) and flower were beautiful! What a fantastic idea. Highly recommended!!
Bouquet Cakes by Nafi
Wedding cakes, Classic design, Cupcakes, Cake pops, Cookies, Mini cakes.
https://www.bouquetcakespdx.com/
nafi@bouquetcakespdx.com ​
+1 301 503-4391
Portland, OR
Based in Portland Oregon, Bouquet Cakes by Nafi specializes in artistically stunning custom cakes and desserts for weddings and other events. Since its opening, Nafi has personally crafted hundreds of custom cakes for customers.
CUSTOMER NAME : Ezra Villanueva
CUSTOMER REVIEW : We can not say enough about how amazing our cake was for our wedding this summer. We sent over a general idea of what we wanted and Nafi was able to exceed our expectations. Her attention to detail was incredible and overall communication through the process was easy. If you are looking for an amazing tasting and amazing looking cake at a reasonable price look no further than Bouquet Cakes by Nafi
Kati's Cakes
Cakes, Sculptural Cakes, Tiered Cakes, Cupcakes, Pies and Tarts, Cookies, Specialty Desserts
https://katiscakes.com/
503-961-4397
16285 SW 85th Ave Ste 403, Portland, OR 97224, United States
Kati graduated with a Bachelor's of Fine Arts degree in sculpture from the University of Oregon. Her career has encompassed many mediums, including fine jewelry design as well as claymation at Will Vinton Studios. Through it all, Kati was baking for friends and family for all occasions. Soon Kati's cakes became the gold standard for every birthday, barbeque, shower, and wedding in her circle.
CUSTOMER NAME : Grace
CUSTOMER REVIEW : Kati was delightful to work with! My son LOVED his Roblox cake! Beautifully sculptured and equally as delicious! We got cupcakes too, to share with friends – Everyone loved them!
SW Cakes
Vegan cake options, GF cake options, Blueberry buttercream, Cake Fillings, Cake Flavor Options,
https://www.swcakes.net/
SWCAKES@OUTLOOK.COM
503-830-0692
OREGON CITY, OR, 97045
"I am an order based company, that makes the perfect creation, for every occasion! You can also find me on Facebook under (sw cakes) And on instagram under (swcakes23) Like and follow me in both for chances to win discounts"
CUSTOMER NAME : ron lyles
CUSTOMER REVIEW : I highly recommend SW Cakes. The owner was very helpful, creative, and turned our ideas into something special. Her service was phenomenal and everything about the cake was perfect. The detail was just as amazing as the taste and texture. Thank you for your service and helping us make our wedding day so special.
Jelana's Bake Shop
Cinnamon rolls, Cookies, Cakes, Cupcakes, Dessert Bars, Holiday Specials.
https://jelanasbakeshop.com/
jelanasbakeshop@gmail.com
(503) 481 – 0620
3753 SE OAKLEAF ST., HILLSBORO OR, 97123 United States
We are a flavor focused bakery providing made to order morning pastries, signature cookies, dessert bars, and custom cupcakes in various dietary preferences: traditional, vegan, gluten free, non-glycemic, and vegan gluten free.
Our mission is to change the American confection landscape from its dependency on sugar for flavor and return to the signature ingredient as the main stage star. Then customers can truly experience what many classic desserts were designed to taste like all while using high quality ingredients, working with vendors as local as possible, and keeping our carbon foot print to a minimum.
CUSTOMER NAME : Laser Fuse
CUSTOMER REVIEW : Everything they make is excellent!!! My best friend found Jelana's Bake Shop 1 years ago and sent me a birthday cake! It was so delicious! Since then I have been sending her baked good to my family and friends. The cookies are really popular and my family and friends report fighting over who gets to eat the last one. You will not regret ordering from this place! Highly recommend!!!